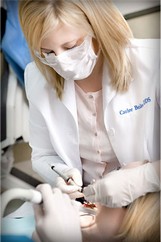 As a dental care provider, I am aware that you have many choices, and would like to take this opportunity to introduce you to my dental practice.
My goal is to help you achieve optimal oral health, using state of the art restorative, cosmetic and preventive dentistry.
I specialize in improving my patients' smiles with conservative and noninvasive dental procedures. I bring the latest proven technology to all aspects of my dentistry, from advanced cosmetic procedures like porcelain veneers and implants to cleanings and fillings.
To schedule an appointment, please call the office at 210-402-6002. My staff would be glad to answer any questions about my practice or your benefits if you have dental insurance.
My team and I look forward to hearing from you soon.